Predisent Vučić briefed Ambassadors Chepurin and Manchang about Pristina's reckless move
November 21, 2018 Source: Tanjug
The President of the Republic of Serbia, Aleksandar Vučić, met today with the Ambassador of the Russian Federation, Alexander Chepurin, and of the People's Republic of China, Li Manchang, and informed them of the Pristina's latest reckless move when they imposed taxes on goods from Serbia, President Vučić asked the ambassadors to inform Presidents Putin and Xi.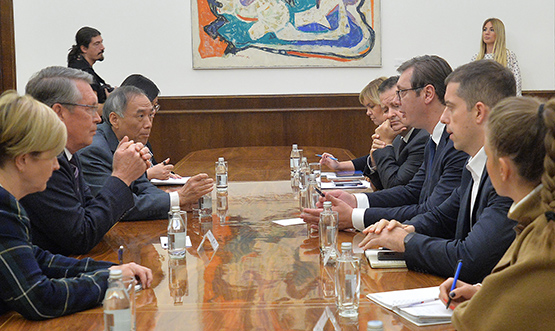 Photo: Tanjug
President Vučić informed Ambassadors Chepurin and Li that Pristina's measures are conducive to a full destabilization of the entire region, and could lead to a deeper escalation of the conflict, reads the statement issued from the President's office.
Ambassadors Chepurin and Li expressed their full support for Serbia's efforts to resolve the crisis peacefully, in observance of the norms of public international law, as well as of the agreements and treaties concluded in the region.
President Vučić and ambassadors Chepurin and Li agreed to keep in daily contact, until the crisis triggered by Pristina has been resolved.
Vučić with Ambassadors of the Quinta and the EU: Pristina risks conflict escalation
At the meeting held on Wednesday, President of the Republic of Serbia, Aleksandar Vučić cautioned the ambassador of the countries of Quinta, i.e. the United States, Great Britain, France, Italy and Germany, as well as the Head of the EU Delegation in Serbia, of the possible ramifications of Pristina's latest reckless move to increase the tax on Serbian goods, whereby Pristina proceeded with their even harsher violations of the CEFTA Agreement.
President Vučić expressed his expectation that the countries of the Quinta, as well as the European Commission, would point out to Pristina that their unilateral moves are unacceptable, and that they pose a risk of conflict escalation and of the disruption in the peace and stability in the region.
President Vučić said that Serbia did not violate any agreement and arrangement made, in stark contrast to Pristina which to this day has not complied with the provisions set out in the Brussels Agreement.
The ambassadors expressed their concern about the possible destabilization as well as for the future of the Dialogue, appealing to President Vučić and the Government of the Republic of Serbia to maintain their rational and peaceful approach to resolving this most recent crisis.