Vučić: The people proved they are able to fight for survival and for Serbia
October 23, 2017. Source: Tanjug
The President of Serbia, Aleksandar Vučić, congratulated the Serbian List on their victory at local elections in all municipalities with Serbian majority in Kosovo and Metohija.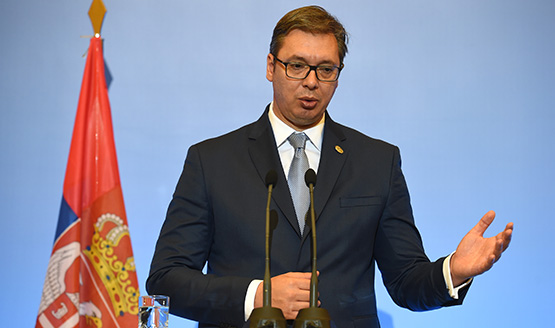 "I want to greet you all and congratulate you on this tremendous success, to say that our people in Kosovo and Metohija have once again proven they can fight for their survival, for their country of Serbia, that they can fight when it is hardest, when they are pressured from the outside and in all possible ways", Vučić told members of the Serbian List, supporters and gathered citizens who listened to him over the speaker from the telephone of the Director of the Office for Kosovo and Metohija, Marko Djurić.
Vučić greeted all those who gathered, congratulating them on their "huge success" and said:
"I want to tell you how proud I am that you are protecting and defending the right of Serbs to remain at their homes and defend the interests of the Republic of Serbia. I also want to say to the people in Kosovo and Metohija that this happened only because they were strong and united and a big thank you to all the activists. Congratulations to Goran Rakić in Mitrovica, and all the others in our 10 municipalities in Kosovo and Metohija, and those who wanted to break us up and beat us were not successful", the President of Serbia said.
"We have won once again", he said, adding that it is important to continue to work in the interests of our people so they can see the benefits of today's victory.
"I am very happy today, maybe you can't hear this from my voice, but I am happy as much as you are, maybe even more than each one of you. I am not sure if some of you understand the significance of this victory. Many wanted to break up the Serbian List after the parliamentary elections. But a unique Serbian approach and a unique Serbian List have once again showed that they cannot be easily beaten", Vučić said.
"I wish all the best to you and your families, I wish you lots of success, and to our people in Kosovo and Metohija I wish for them to stay there and live a better life. Long live Serbia and all the best to you all. And Kosovo and Metohija is a part of Serbia", the President said, after which the gathered citizens began exclaiming "Long live Serbia" and "Aca the Serb".
The Serbian List celebrates the victory tonight with over 80% of votes, as the President of the Serbian List Goran Rakić said, with fireworks, torches, champagne and trumpets.